A new way for real estate developers to raise funds and manage projects!
Real estate developers have traditionally had to raise capital and manage investors on their own. This old way of working forced developers to rely on offline funding sources, including friends and family, to finance projects. It also forced developers to take time away from the project to provide updates to investors, answer all their questions, manage the operation, and handle all financials.
By partnering with Gatsby Investment, you get to focus on the construction and leave the rest to our team of investment experts!
With Gatsby Investment's real estate syndication sponsor program, you gain exposure to our wide network of accredited investors to help raise the capital needed to complete the development. You also get to leverage our resources, including our proprietary investment platform.
The Gatsby Investment platform was built to streamline and modernize the real estate investment process. We use advanced tech systems to create a more efficient experience on both the developer side and the investor side of the transaction.
Based in Los Angeles, Gatsby has historically focused on the Southern California market. But we are now looking to expand into different markets across the US. We are excited to partner with well-established developers and operators who have a track record of profitable deals in high-valuable markets.
Is your deal right for Gatsby Investment?
Gatsby is highly selective when it comes to choosing the right developers to partner with.
We have a detailed review process in which we confirm that you meet the developer and project criteria.
Developer Criteria
We are looking for high-performance developers with a strong track record of completing profitable deals. Each developer is subject to the same review process and should typically demonstrate the following:
At least 10 years of experience in the real estate industry.
At least 5 years of experience in the specific project type.
A successful track record of profitable deals.
Strong knowledge of your local market.
Developer need to have some stake in the deal alongside the investors.
Project Criteria
Gatsby has carved out a strong niche in smaller real estate projects with shorter hold periods. To best serve our investors, we require sponsored projects to fall within our niche. The key project types we focus on are listed below:
Single-family house flips.

We look for homes with exceptional value-add and transformation potential. We typically target homes under $1 million, and we expect the project to be completed in less than 12 months.

Multi-family new development.

We look for ground-up developments of 4-10 units that are built-to-sell. We typically target projects with an after-construction value in the $5 million range or lower. The timeframe needs to be under 24 months.

Multi-family value-add.

Our multi-family rentals are existing properties with transformation potential. We typically target properties with 50 units or below. We look to upgrade the interior and exterior of the properties, remodel the units, increase rents, restabilize the properties, and hold them as rentals for 3-5 years before selling them.

Other projects.

If you have any project that doesn't fit these exact criteria, but that you believe would be a good fit for Gatsby, please submit the project for our consideration.
Reasons to partner with Gatsby Investment
Gatsby has raised over $65 million and completed 42 projects across multiple property types. All deals until 2023 were located in Southern California, but we are now looking to grow our network of developers to expand our house-flipping model, multi-family developments, and multi-family value-adds across different markets around the country.
This gives developers, operators, and general contractors a unique chance to partner with an experienced real estate syndication company that can make it easier to raise capital and manage deals.
With our combined knowledge and resources, we can generate greater returns and complete real estate developments quicker, while also providing an impressive investor experience!
Key benefits of partnering with Gatsby
You gain access to nearly 10,000 investors from all over the world.
We provide a stable legal structure for investors and developers.
You get to use our proprietary software to track the status and performance of the project.
Our software digitizes fundraising, tax documentation, and proceed disbursements.
Gatsby secures the construction and mortgage loan.
You get to leverage our marketing to complete more deals.
Gatsby handles all investor relations. We provide investors with project updates, process their required tax forms, and distribute their proceeds.
What makes Gatsby different from other real estate syndicates?
Gatsby has a 100% success rate of profitable deals.
We can accept smaller deals than most syndication firms.
We partner with you to provide a seamless investor/developer experience (as opposed to simply providing a platform for raising funds).
What you can expect during the investment process
If your proposed project is approved for a partnership with Gatsby, you can expect the following:
1. Legal documentation
Once your deal is approved, Gatsby creates the LLC in which the property will be held. We pay the earnest money deposit and open escrow on the acquisition. Our experienced team takes care of all escrow documents, handles all legal contracts, and secures the property on behalf of the ownership LLC.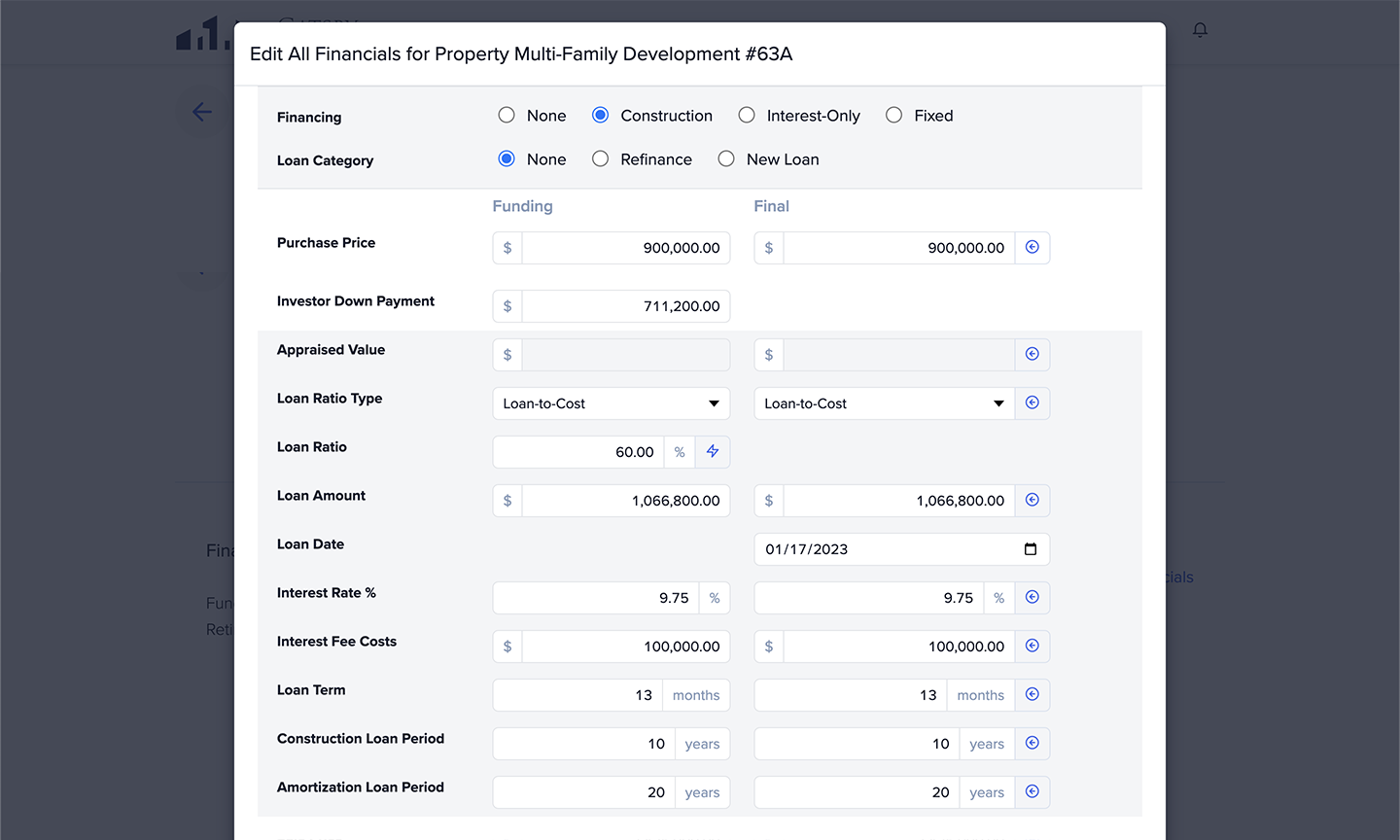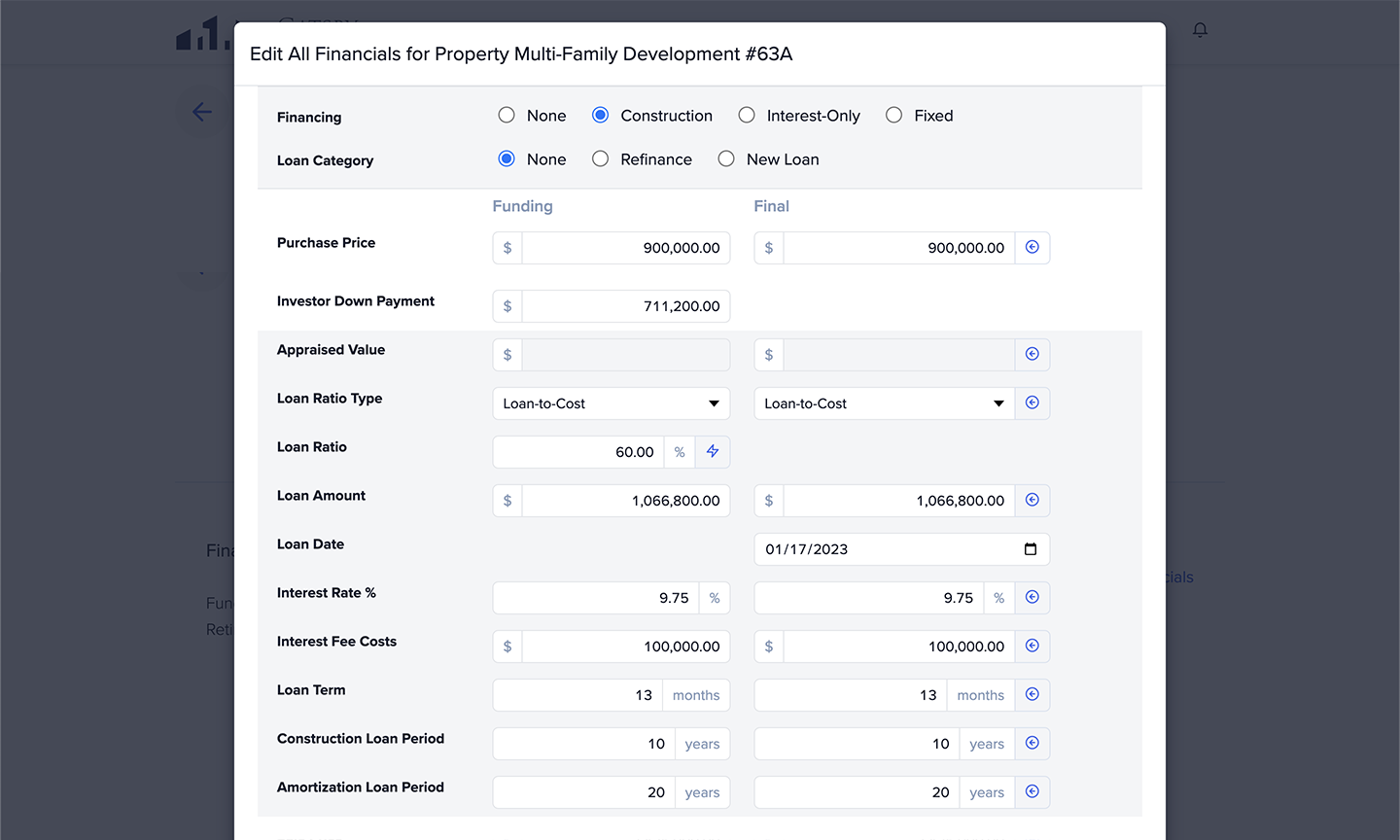 2. Securing the loan
Gatsby uses our lender connections to secure the best possible financing. Gatsby co-signs for the loan and will handle loan draws throughout the life of the project. In addition to loan draws, Gatsby completes payments for construction, vendors, mortgage, insurance, and property taxes. We also issue the 1099 forms.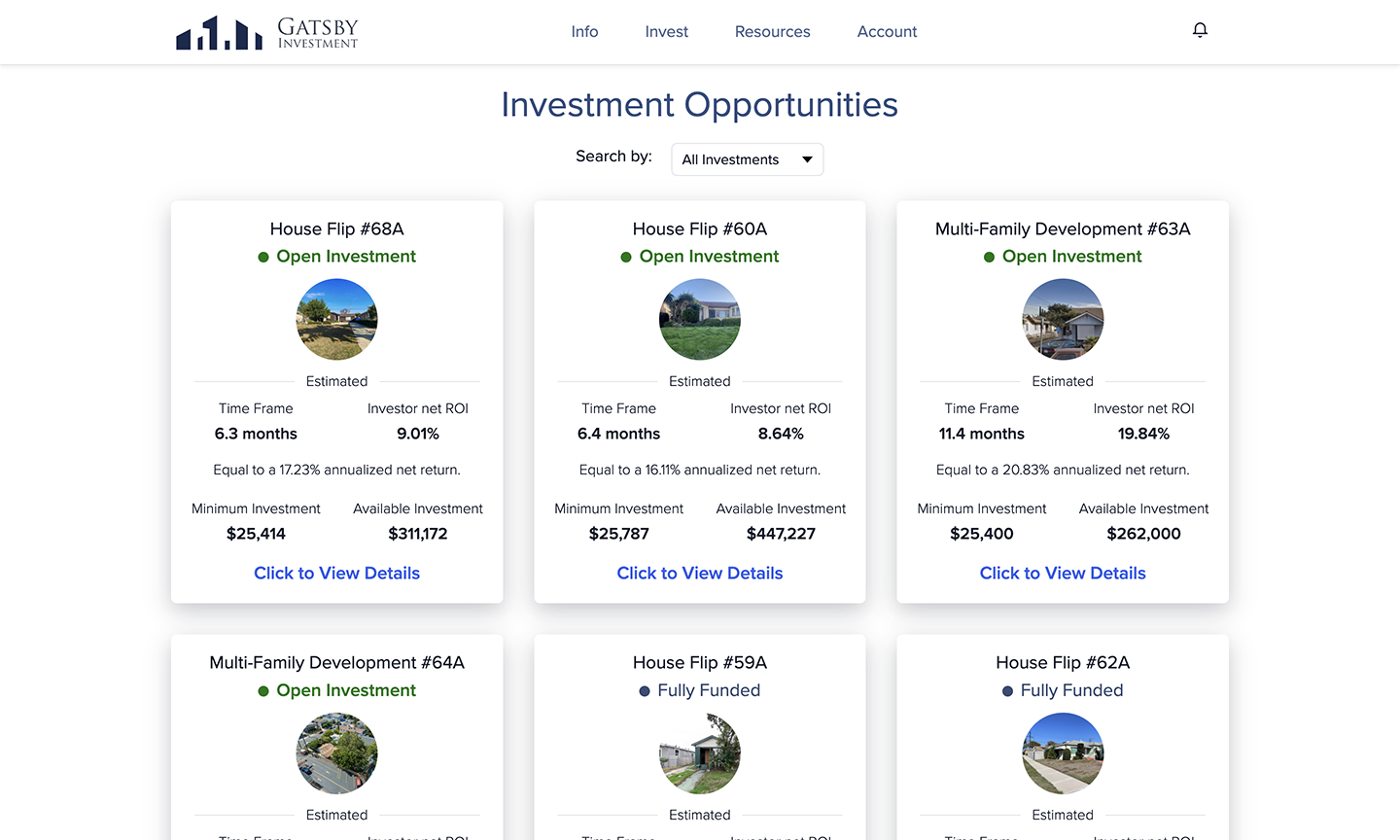 3. Publishing the investment project online
Gatsby builds all the elements needed to launch the deal online. We combine the information collected through the project review process with our own due diligence to create an offering detail page, which tells the story of the project to the investors. Then we open the investment on the website to let our pool of investors join the deal.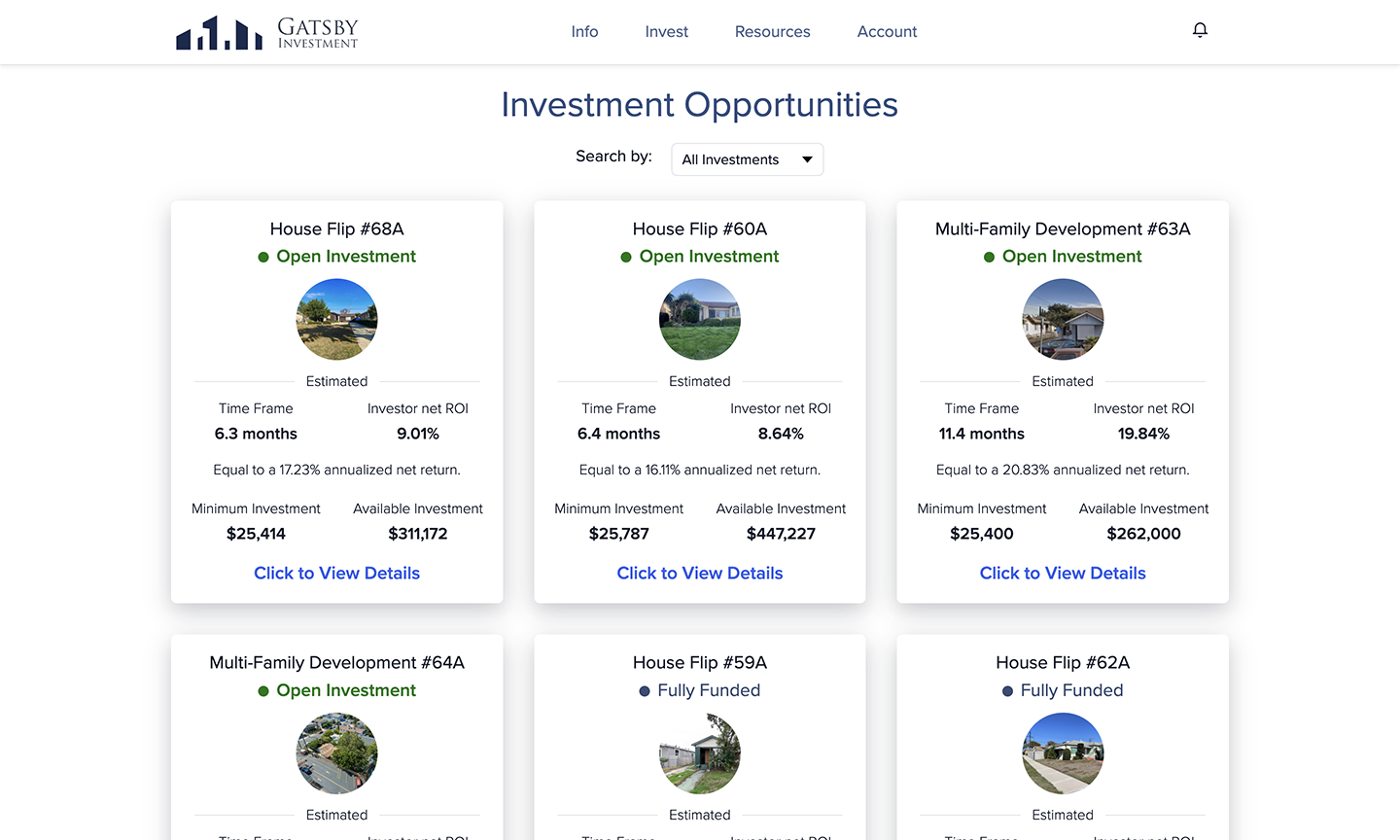 4. Raise the investment funds
We create an email blast for our list of about 10,000 investors and promote the open investment on all our social media channels to reach new investors across the US. Our investment specialists answer inquiries and take appointments to discuss project details with interested investors. We assist investors as needed in completing their investments through our platform.
5. During construction
Gatsby keeps investors updated via the progress bar feature of our platform. We send email updates when the project moves from one status to another. And we upload the before and after photos, as well as progress photos during construction so that investors can see the progress. Gatsby takes care of all the investor communication so you can focus on the construction.
6. For rental holding
For properties that are being held as long-term rentals, Gatsby handles all investor communications, including periodic updates via the platform, as well as accounting and quarterly investor disbursements from any rental income. We also handle the mortgage payment and oversee the property management company.
7. Property sale and distribution
When it's time to sell a property, Gatsby handles the marketing and sale from start to finish. We market the property online to reach a wide range of potential buyers, and we personally contact our network of qualified buyers to generate immediate interest in the listing. We also handle the escrow process. When the sale is finalized, our accounting team will calculate the financials and process the investor and developer distributions. At the end of each fiscal year, we file the investor IRS 1065 forms and Schedule K-1s.
How to become a sponsor with Gatsby
Step 1: Create an account.
Step 2: Complete our application questionnaire.
Step 3: Meet virtually to discuss the partnership & due diligence
Step 4: Gatsby will review your application.
Step 5: Sign the partnership agreement.
Step 6: Submit your project proforma for our review.
Our experienced analysts will conduct independent due diligence to see if the project meets our requirements. If it does, we will proceed. If it does not, we invite you to propose another deal.